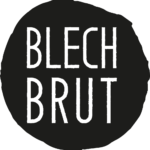 ABOUT US
Blech.Brut is based in Bamberg, the beer capital of Germany, and was founded by Benedikt Steger, an experienced graduate brewmaster. He first brewed for various craft beer breweries in Germany, London and Paris before founding his own craft beer project with Blech.Brut in 2018 as a Gypsybrewer.
Shortly after, Benedikt was awarded "best new brewer worldwide" (Top10 2019) by ratebeer and Blech.Brut is now one of the most sought-after and top rated craft beer breweries in Germany, famous for its for balanced dryhopped lagers and super fruity IPAs.
Since 2019 Blech.Brut is brewing in Bamberg at Brauhaus Binkert, a family owned brewery with a modern 15 HL System. Untypically for Gypsies we have our own canning line together with our friends from ATELIER VRAI.
CODE OF CONDUCT
For us, craft beer is not just beer that tastes different. We see craft beer as a cultural movement that is all about enjoyment, high-quality and special raw materials, creativity, diversity, extraordinary design and people with a lot of passion. As a brewery, we are an important part of this movement and it is very important to us that we all treat each other fairly and respectfully. Therefore, we do not tolerate harassment or discrimination based on race, gender, gender identity, national origin, marital status, ancestry, physical or mental disability, appearance, physical size, sexual orientation, religion or any other protected class. This applies to our employees as well as our guests, our partners inside and outside the industry, and those who serve and consume our beers at festivals and events in which we participate.
For clarification, the following examples are considered unacceptable behaviors:
• Sexual misconduct or harassment, be it verbal or physical
• Stalking, hassling, or otherwise bullying others
• slurs or negative stereotyping; threatening, intimidating or hostile acts; denigrating jokes
• intentional misgendering; sharing of any of the preceding on social media in a purposefully humiliating manner
We take all violations of our Code of Conduct seriously, and we do not tolerate harassment of employees, customers or vendors. Employees, vendors or customers found to be in violation of the Code will be held accountable, and may be subject to consequences, including but not limited to the following:
• Employees found to be in violation of the Code may receive a written warning, suspension, termination, or other consequences
• Vendors found to be in violation of the Code may lead to review or termination of our relationship
• Customers found to be in violation of the Code may be asked to leave company property and/or company-sponsored events, as we retain the right to refuse service. Furthermore, violators may be permanently banned from company property and/or events
We encourage all employees, customers, partners and suppliers to contact us, Nico Döring or Benedikt Steger, directly (in person, digitally or virtually) should anyone violate our Code of Conduct. Retaliation of any kind against a person who reports concerns in good faith is against our principles and will not be tolerated.
We are doing our best for a better and fairer craft beer movement, if there is any way we can improve in doing so, please feel free to let us know and email us at hello@atelier-vrai.de or benedikt@blechbrut.de.
Your
Benedikt Steger (Founder of Blech.Brut) Nico Döring (Founder of Atelier Vrai)